About RPG Research | Our Staff | Mission | Vision | Impact | Volunteer | Donate | Events | Schedule | Museum
Non-profit Listings for RPG Research: Washington State Government Lookup | Guidestar.org Rating |
The RPG Tour's purpose is to raise awareness about accessibility & inclusiveness issues, adaptive equipment & technologies, the power of therapeutic recreation, music, and role-playing games to help improve quality of life for various populations, and raise funds for the 501(c)3 non-profit charity RPG Research.
Donate to RPG Research Today! Request Tour Visit
Follow tour updates on Twitter: www.twitter.com/rpgtour and Instagram: www.instagram.com/rpgresearch.

RPG Trailer prototype and RPG Bus setting up at SpoCon Game Day.
RPG Trailer Prototype & RPG Bus deployment example for wheelchair access.

RPG Bus Interior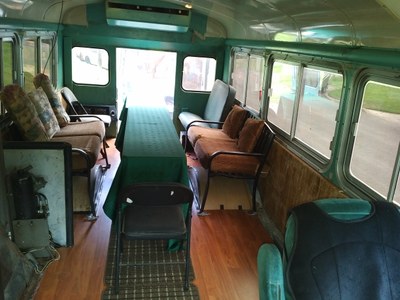 RPG Trailer interior with Montessori school kids being introduced to role-playing games using No Thank You Evil (June 2018)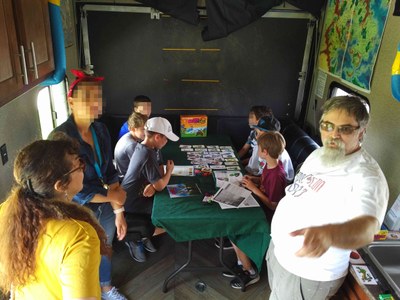 Wheelchair acessible RPG Trailer prototype at Muscular Dystrophy Association MDA summer camp, RPG Research volunteers providing adaptive role-playing games (tabletop and live-action (LARP)), shield-making/decorating, and adaptive drumming.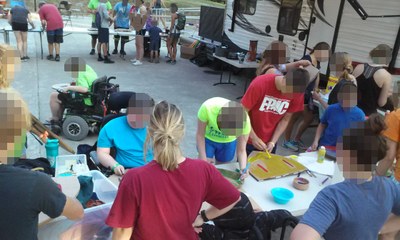 RPG Trailer at SpoCon 2017 DoubleTree Hotel Spokane Convention Center.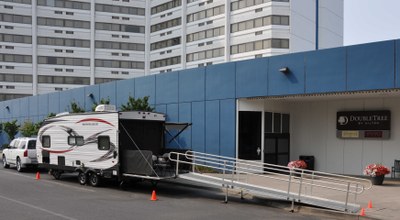 Current Tours
This year's in-person physical RPG Tours are now complete.
We are offering live online tours upon request.
See our Contact Us Page to request a live virtual tour.
For future physical in-person tours, watch for updates on this page and in the RPG Research News/Blog section, and our Twitter feed.
Upcoming Tours
Pending funding from donations.
Previous Tours
2020 USA RPG Tour: Washington to Maine to Texas and back. Founding of RPG Museum. Details here.
2019 USA RPG Tour 2: Washington to Nevada, American Therapeutic Recreation Association Conference. Details here.
2019 USA RPG Tour 1: Washington to Indianapolis, GenCon. Details here.
2018 Western USA RPG Tour: Details here. (26 days 8 states).
2017 SpoCon Tour - Details here.
2017 Northwest USA RPG Tour: Details here.
2016 Washington State RPG Tour: Details here.